TOKYO: In 1982, bright-eyed teenager Shimon Ishimaru joined one of Japan's biggest male talent agencies with hopes of a star-studded career in the hugely popular J-pop scene.
During his three years at Johnny & Associates founded by entertainment mogul Johnny Kitagawa, Mr Ishimaru was a budding talent.
He became a member of a group called Johnny's Junior, and was even given access to a coveted training camp – by invitation only from Kitagawa himself, where the powerful businessman lived among the trainees.
But Mr Ishimaru's time at the agency soon turned into a nightmare. Kitagawa would visit his bedroom from time to time and sexually abuse him, Mr Ishimaru, now 56 years old, told CNA.
AGENCY CHANGES NAME, PROMISES COMPENSATION
The accounts by former Johnny's trainees have been confirmed by Mr Noriyuki Higashiyama, a former Johnny's superstar.
He now heads the scandal-hit agency, taking over from Kitagawa's niece Julie Keiko Fujishima, who resigned last month after apologising for the actions of her late uncle. 
Mr Higashiyama admitted that he was aware of what was going on in the 80s but did nothing.
"It was a forbidden topic, something we kept out of. I was too young to wield any influence," he said.
Related: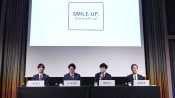 "Today, I will do what I can. It's not easy to heal the broken hearts. Compensation will not end the problem. We will remove (Johnny's) name from everything," he said.
Johnny & Associates has been renamed Smile Up since Oct 17, as the firm attempts to distance itself from Kitagawa.  
The company will eventually be dissolved when compensation to victims is completed. Talents will be shifted to a separate agency, which Mr Higashiyama plans to set up later.
Prof Kitatani said that the unravelling of the abuse, despite taking decades to come to light, has been a positive outcome.
"It's the first time in Japan that this negative, dark crime which has been committed by one of the three major agencies has been revealed. Therefore, my conclusion is that this was actually better for the industry," he said.