"We're going to end this series with a bang," I announced excitedly to my friend and occasional private hire driver Oliver Pang, who made it patently clear I had not chosen my words wisely. "Can I get out now?" he asked, jokingly trying to exit my vehicle.
As I drove us to Oliver's choice for Indian street food, we chatted about how the theatre performer/drama teacher/yoga instructor got into private hire driving. As with many gig economy workers, it was to cover costs while he was between jobs for two months.
"I thought it'd be nice to rent a car and drive my mum around. I drove two to four hours a day mainly to pay for the petrol and rental," he explained.
Ironically, just two weeks after he started, job opportunities picked up and he found himself juggling driving with rehearsals, teaching yoga and lecturing classes. The workload became exhausting, so he decided to take a hiatus. Still, Oliver really enjoyed his private hire driving experience – despite the physical toll on his back and bladder – and would return to it should the need arise.
05:23 Min
"If I didn't have any other jobs, I really don't mind driving. It's really fun. I love having conversations with people. I just like to get to know their worlds, how people live their lives," he said, relating a memorable encounter with an initially grumpy passenger who softened after he offered to switch the music in his car for her. This led to a heart-to-heart conversation and she even gifted him a snack after their exchange.
"To be honest, I've been very blessed. I've not had any bad experiences. It always starts off not-so-nice but ends very beautifully. If someone is not happy, my aim is to make sure that they leave feeling good," Oliver shared.
Having worked with him on several stage productions in the past, I noticed the similarity between his approach to theatre and driving. Oliver thrives in situations that allow for temporary, but meaningful connections. To be an actor is to be open and adaptable – traits that also helped him own and operate a successful cafe and yoga studio for more than a decade.
Under restaurant owner Batta Sudarsan's watchful eye, his kiosk staff briskly put together our order. With a press of the thumb, the top of each deep-fried sphere crumbled away to reveal its hollow interior. Spiced, chunky mashed potatoes were stuffed inside each puri, then served with two different pani (S$5 for six).
The textural contrast of creamy potato and crispy puri was tasty enough, but the magic was in the flavour-boosting pani. Both ice-chilled, with the added crunch of little fried balls of dough floating on top, the minty-green and tamarind-orange pani drenched the puri in distinct deliciousness. Each portable puri was shaped like an edible, mini bowl, perfectly sized to pop into the mouth whole.
Easily my favourite, the bright green pani was a burst of coriander-mint freshness, spiked with the heat of green chilli, lime, black salt and spices like cumin. The bright, savoury liquid carried a hint of fruitiness from jaljeera powder (generally a mix of ginger, black pepper, chilli powder and other spices, along with a zesty citrus element), which also seasoned the more syrupy orange pani. Tamarind played with jaggery (unrefined cane sugar), giving the pani a sweet, tangy and earthy molasses flavour.
We had been enjoying the pani separately, but Oliver advised: "It's even better when you mix them together. And in India, I was told you have to finish it all." We each picked our favourite flavour and with a little toast, down our little jugs of flavoured water. Thirst quenched and hunger temporarily appeased, we concurred that pani puri was a wonderful snack to enjoy on a sweltering day.
More Makan Kakis: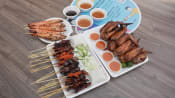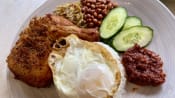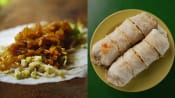 Our tastebuds were still singing from the pops of taste and texture when we decided to try another chaat. "Something with yogurt. It's quite good for this hot weather," was Oliver's request. I chose papadi chaat (S$7) for how delightful it was to say aloud as much as for its ingredients.
While our previous snack featured puffed-up puri, this second chaat consisted of flat puri discs, crushed and dolloped with a spiced chickpea and potato mixture, chopped raw onion, fresh coriander and yogurt. Mint and tamarind chutneys were drizzled lavishly from squeezy bottles and a flurry of sev (seasoned chickpea noodle bits) topped the dish with its golden crunch.
While the pani puri had been cool and refreshing, the papadi chaat was a warm, creamy hug of solid comfort. We appreciated the contrast between our light starter and more robust second choice.
"So now you know why I stop by when I'm driving. It's not too heavy of a meal, but enough to fill me up. So when I drive, I don't get uncomfortable," Oliver said, adding that he was always on the lookout for good food to try wherever he was ferrying passengers across Singapore.
But no matter where Oliver roams, Little India remains his cultural and culinary soulmate, the place he always returns to. "It's where my heart is," he disclosed. I could relate. Dwaraka's chaat menu was already calling me back for another tasty rendezvous.
It struck me that many street foods, including the chaat we had just shared, sparked an uncanny feeling of familiarity. Testament to the smallness of our world and the vastness of our shared experience, it was like a secret handshake between foodies. We had just experienced the culinary and cultural connection that first charmed Oliver on his travels.
Dwaraka Restaurant is located at 115 Syed Alwi Road, Singapore 207683. It's open daily from 11.30am to 2am. Catch Makan Kakis with Denise Tan every Thursday from 11am on Mediacorp GOLD 905.
More Makan Kakis: