Mad About Sucre is a bit of an insider's secret. Tucked in a shophouse at Teo Hong Road in Outram, the restaurant and patisserie has won numerous awards from food and luxury magazines. Co-founder Lena Chan was also nominated for the Pastry Chef of the Year award at the World Gourmet Summit in 2018 and 2021.
The 49-year-old was selected to bake a three-tier cake, to be presented to Blackpink at their Born Pink World Tour concert in Singapore in May. The 1.1m-tall cake was made with coconut, light pandan and brown butter. The intricate edible orchids and multi-textured flowers created out of sugar, fondant and waffle paper took a week to make.
Her chocolates were also ordered by the Women's Tennis Association (WTA) and enjoyed by the likes of tennis stars Venus Williams and Carolina Wozniacki when the tournament was hosted in Singapore in 2017. 
Over the years, Chan created many low-sugar cakes and desserts for her son, replacing refined sugar with raw sugar. She also eliminated common allergens such as artificial colours and flavouring from her bakes.
Chan baked so enthusiastically that her son rarely ate store-bought cakes and pastries. And as her passion grew, she also began modifying recipes for the rest of her family. By then, she had given birth to her second son in 2007.
"Although a lot of people use premixes to make custard, making custard the traditional way with egg and cream takes time, effort, patience and proper technique to do right. If you turn the heat up too high, it will get burnt, or not have the right texture," she said.
Making custard might seem basic, but Chan knew that fundamentals were extremely important. "If you do everything from scratch, you can control and perfect every step, including sourcing for sustainable, traceable and premium ingredients. Hence, a good foundation is very important for innovations in texture and flavour profiles," she said.
Nearing the end of her year in Paris, Chan met up with her elder brother Eric. Heeding her brother's advice that it would not be practical for her to start from scratch as a junior pastry chef at the age of 39, the siblings decided to start a restaurant, patisserie and chocolaterie together instead. They also roped in a third partner, James Tan, who helms operations.
Related: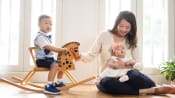 DIVINE DESSERTS WITHOUT THE DECADENCE
The idea, born in Paris, is reflected in the name. The word "sucre" in Mad About Sucre means sugar in French.
"Mad About Sucre actually means 'angry with sugar' because it caused my nephew a lot of health problems. But 'mad' is also often taken to mean 'love' in our context. So it's a love-hate relationship with sugar. And in the end, it's all about balance," said Eric Chan.
She also sources for premium ingredients, gluten-free organic flour and the freshest fruits available. Using fruits in season is especially important when making low-sugar pastries because the fruit flavours have to be intense enough to lift the mousse or cake, said Chan.
This is the main reason why Chan creates new pastries every two to three months, which showcase seasonal fruits such as mangoes and peaches.
The award-winning pastry chef has also been known to create the most unexpected flavour profiles. Some exotic flavours she has created over the years include a Korean ginseng, osmanthus and Arabica coffee pastry, as well as an organic fig, salted caramel, cream cheese and bacon pastry.
One of the cornerstones of Mad About Sucre is scratch-baking – making cakes from start to finish, with no premixes or pre-packaged ingredients.
French pastry is notoriously time-consuming to make. "Classic French pastry usually consists of four or five components, the mousse, a thick cream, a fruit confit, the sponge layer and the crunch base.
"Each component has to be made separately and be ready before assembling. The entire pastry might take four hours to make," Chan said.
Though some restaurants and cafes use premixes for components such as the custard or sponge cake to save time, Chan avoids these because they may contain stabilisers and preservatives, which she believes to be bad for the body.
Scratch-baking means Chan works long, gruelling hours, sometimes spending 15 to 16 hours in the kitchen during busy periods such as the weeks leading up to Christmas, Chinese New Year, Mid-Autumn Festival and Valentine's Day.
Large customised cakes are also particularly labour-intensive, especially since Chan prides herself on making the intricate cakes entirely by herself. Her latest creation is a 2.3m-tall cake for 1,200 wedding guests, along with 1,200 individual cakes. Because of its size, even making the small sugar flowers took weeks.