Britain's Prince William took to the waters in Singapore for a morning of dragon boating on Monday (Nov 6), ahead of activities for the annual Earthshot Prize awards aimed at promoting solutions for the planet's environmental threats.
Donning a life vest and a black cap, the Prince of Wales sat in a long narrow boat as he paddled with athletes from the British Dragons club on the Kallang river. Working in pairs, Prince William and the other 19 paddlers rowed vigorously to the steady beat of a drummer standing in the bow.
His boat triumphed in a brief race with another boat captained by British High Commissioner Kara Owen. It was not the first time for Prince William, an avid sportsman who tried his hand at dragon boating with his wife, Kate, the Princess of Wales, during a tour of Canada in 2011.
Prince William is to address a star-studded award ceremony Tuesday, where winners will be named in five categories: Nature protection, clean air, ocean revival, waste elimination and climate change.
Each winner will get 1 million pounds (US$1.2 million) to help them scale up their projects for wider global reach. All 15 finalists, representing six continents and selected from 1,300 nominees this year, will receive help in expanding their projects.
Actors Hannah Waddingham and Sterling K Brown will co-host the event, which will also be attended by wildlife conservationist Robert Irwin and celebrities including Oscar-winner Cate Blanchett and actors Lana Condor and Nomzamo Mbatha.
Related: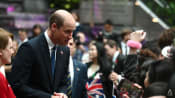 The prize's name refers to the late President John F Kennedy's 1962 "moonshot" speech, which challenged Americans to reach the moon by the end of that decade. That inspired the prince and his partners to set a similar goal for finding solutions to environmental problems by 2030.
The inaugural ceremony was held in London in 2021 and the second in Boston last year.
Prince William's office at Kensington Palace has said Singapore was chosen to host this year's ceremony because of its role as a "hub for innovation" in Southeast Asia.
During his four-day visit, his first to the city-state since 2012, Prince William will also call on Singapore President Tharman Shanmugaratnam and meet with Prime Minister Lee Hsien Loong.
Prince William also plans to attend the United for Wildlife summit, featuring representatives of law enforcement agencies, conservation groups and corporations working to combat trade in illegal wildlife products, estimated at US$20 billion annually.