Imagine being informed an hour before your interview that Rebecca Lim was feeling under the weather and had to postpone our scheduled interview to the next day, then seeing the Mediacorp star strutting down the red carpet at a Ralph Lauren event at the Marina Bay Sands a few hours later.
Any jaded writer would have raised an eyebrow.
But first, context. Rebecca has had quite a whirlwind month. She was in Busan for the Busan International Film Festival, where she was nominated for Best Actress in Third Rail. Then she was in Kuala Lumpur for the Malaysian premiere of her new movie Confinement.
Did we forget to mention she is also 25 weeks pregnant? Rebecca herself told us excitedly as she double-checked her phone in front of us.
"I am so sorry about yesterday, but I knew it was going to be a long night at Ralph Lauren and I really needed that power nap," she explained before apologising again.
In fact, we felt a little guilty that she still accommodated our meet-up as we later found out she still had plans to attend a Q&A session in support of Confinement at Golden Village Suntec City.
Can we all give her a standing ovation already?
Directed by award-winning director, Kelvin Tong, Confinement follows Rebecca's character, Siling, a first-time single mum who moves into a vacant house.
The arrival of the confinement nanny, Ah Qing played by Cynthia Koh, seems to trigger a host of unnatural incidents that look set to endanger Siling and her newborn child.
When we asked Rebecca about her thoughts on the various confinement rules, she shared that she is looking forward to it after seeing her sister-in-law emerging from it looking so good.
"Even if it is purely for vanity reasons," she laughed.
On a more serious note, Rebecca shares with us that with pregnancy taking such a toll on the body, having a month off to recuperate after giving birth is very important.
"In fact, I plan to be as hands-off with my baby as much as I can during my confinement because I think there will be more than enough opportunities to change diapers and wake up in the middle the night," she shared.
Related: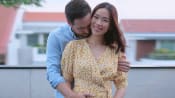 OCTOBER HAS BEEN QUITE A CRAZY MONTH FOR YOU. YET, YOU ARE STILL GLOWING. HOW DO YOU DO IT?
You didn't see me this morning before I had my hair and make-up done.
Honestly, I think I had it easy in my first and second trimester and was full of energy throughout. But I am starting to feel a little fatigued as the baby has grown quite exponentially in the last trimester. I guess it is now time to pay my dues.
TELL US MORE ABOUT YOUR TRIP TO BUSAN?
It was an eye-opener as it was my first time! Personally, I always look forward to doing new things, going overseas and experiencing different cultures – just being out of my comfort zone.
Initially, my management was asking if I really wanted to travel as they were a little worried about me being pregnant. But I said I had to go. It may be a once-in-a-lifetime opportunity and I was very proud to represent Third Rail while I was there.
HOPEFULLY, YOU HAD SOME TIME OFF WHILE IN BUSAN?
I actually took three days off and went travelling around Busan with one of my best friends who I have known since I was seven. In a way, it was a sort of a 'babymoon' for me to rest and relax as I don't think I will have time to do one with (my husband) Matthew.
WHAT ARE YOU MOST LOOKING FORWARD TO BEING A MUM?
I recently had a chat with Matthew that I feel a little guilty for not being excited about motherhood. In fact, I feel more nervous than anything and just pray everything will be as smooth-sailing as possible.
YOU ONCE MENTIONED IN AN INTERVIEW THAT MATTHEW ALWAYS WANTED KIDS WHILE YOU WERE MOSTLY ON THE FENCE ABOUT RAISING CHILDREN. COULD IT BE BECAUSE OF THAT?
Matthew was an only child and he actually hopes for more than one. For me, I never felt I had met the right person to start a family till he came along and (I) realised he's a very dependable partner.
I also didn't want to give myself so much pressure to be pregnant, especially with everyone saying how very difficult it is to have a child in your late 30s.
I even gave myself a mental deadline that if I am not pregnant by a certain date, then we will stop trying. But here we are!
HAS MATTHEW SHARED WITH YOU WHAT HE IS MOST LOOKING FORWARD TO AS A FATHER?
That is a very good question and I have not asked him this. I'll do it when I meet him later.
I think just the idea of becoming a dad excites him. Even now when he feels the little kicks in my tummy at night gets him excited.
DO YOU GUYS HAVE ANY PREFERENCES ON THE GENDER OF THE BABY?
All I can say is we did and we both have different preferences.
YOU MENTIONED THAT YOU WILL BE A "TIGER MUM BUT NOT IN THE EDUCATION PART".
Just seeing how stressed kids these days are and considering that I didn't do very well in school… As a parent, who am I to expect amazing grades from my child? Whatever my kid inherited is from me right?
For me, it is more important that my kid grows up respectful and experiences a happy childhood with pleasant memories.
BEING THE OVERACHIEVER THAT YOU ARE, ARE YOU ITCHING TO GET BACK TO WORK AFTER YOUR OWN CONFINEMENT?
It must be a really good project that I truly want. Or even something challenging.
As of now, it is too soon to say and depends on many factors such as health and how maternal I will be after childbirth.
For now, I will focus on this new transition and see how it goes.
This story was originally published in 8Days. 
For more 8Days stories, visit https://www.8days.sg/