The last few months have been trying for Natalie Lim and her 15-year-old chihuahua, Hazel. Hazel had been put on dialysis not long ago and since the hospital was full and she couldn't be admitted, Lim had to administer the IV drip.
"When I pushed the needle into her neck fold, she would cry because of the cold sensation. She doesn't like it. The process took only a minute, but it felt like forever," Lim recounted.
The emotional turmoil of seeing one's pet suffer isn't all. Each bag of fluid cost Lim S$150 (US$110), amounting to S$7,000 in a span of two months. It's not that she didn't expect this. As the owner of multiple pets, including fish, birds, and even mice at one point, she knew exactly what she was getting into.
"It's easy to buy a dog or adopt a pup for free. Food and grooming are also easy to take care of. But what many people don't think about is what happens if their pet gets sick," she warned.
"It's common for people to Google vet fees and see that a consultation costs S$45, which is affordable. But they don't realise it's the medication that's insanely priced. If you don't have at least S$20,000 in your bank at the bare minimum, don't even think of getting a dog or cat."
Related: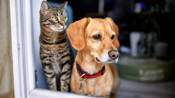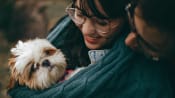 THE HIDDEN COSTS OF HAVING DOGS AND CATS
Lim's ballpark figure is no exaggeration. It's not uncommon for the costs of maintaining a pet to triple – or even quadruple – that of adopting or buying one, and several vets CNA Lifestyle spoke with concurred.
Even if your pet were in the pink of health, a laundry list of expenditures awaits the responsible pet owner.  According to Boehringer Ingelheim spokesperson Claudine Gordon, these range from one-off spendings from microchipping to sterilisation, to recurring ones including:
Annual vaccinations: These may be followed up with periodic boosters, depending on the vaccination's immunity period.Monthly parasiticides: These protect pets from external parasites such as fleas, ticks, and mites, and internal parasites like hookworms, heartworms, and roundworms.Grooming: This is important not only for their appearance but also their physical health, and costs vary across breeds. Training: For instance, pet owners may send temperamental dogs for obedience training. Pet feed: Organic pet feed known for their nutritional value is increasingly popular despite being priced at a premium.Miscellaneous costs: These include pet boarding costs when owners are travelling and transportation costs for those who are moving abroad.
Soaring temperatures in this part of the world don't bode well for our furry friends, too, and dogs in Singapore commonly suffer from skin problems and allergies, which can cost up to S$600 to treat.
Dr Teo Boon Han, vet and managing partner at VetTrust, said: "The cost of treatment for these conditions can vary significantly, depending on whether there are underlying issues or complications. Typical veterinary fees of treatment could range from S$100 to a couple thousand dollars."
Even at a young age, pets may need physiotherapy, too. Hip dysplasia, for instance, is an orthopaedic condition prevalent among specific dog breeds. Russell Chan, whose family welcomed Luna, an English cocker spaniel, last year when she was just three months old, noticed that she tends to bunny-hop when running or climbing the stairs.
"We thought it was cute at first, until we realised that she was avoiding the use of her right hind leg. The vet recommended hydrotherapy for Luna to strengthen her joints, which would cost at least S$100 per session," he said.
Due to advancements in veterinary care, our pets are living longer than before. Ageing dogs like Hazel are prone to kidney troubles, and cats aren't spared either. Dr Teo estimated that one in three cats above ten years old has chronic kidney disease. Once damaged, their kidneys have "minimal ability to heal."
In late 2020, Tan noticed that one of Eggyolk's eyeballs had popped out. She was later confronted with bad news: Eggyolk had a small tumour that would require the expertise of a more established vet clinic to remove. "Of course, it costs more, but it doesn't matter if it means Eggyolk can have the right treatment in time."
More bad news awaited at the latter clinic, where Eggyolk's other health conditions, including glaucoma, spinal dislocation, and respiratory issues, were discovered. What followed were monthly visits to the vet clinic, an appointment with an eye specialist, and the need for pain relief medication. The total cost amounted to S$1,500.
"I want to take care of Eggyolk and it is my responsibility the moment I adopted him. As long as he's in my care, I'll see to it till he passes on," Tan said.
When Eggyolk eventually died, Tan spent a couple hundred dollars on a funeral in which she had to write a note for Eggyolk, choose a photo of him, and "walk" him to the furnace for cremation.
"Dental problems can be difficult to treat as most of these pets do not like eating hay. With a low fibre diet, they tend to get overgrown teeth again even after treatment. Some even require a dental procedure every one or two years," she said.
As you can imagine, repeat visits and long-term medication for pain relief do not come cheap. Dr Tong estimated that treatment can cost between S$500 and S$1,500, depending on the severity.
Related: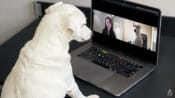 ADVICE FOR PET OWNERS-TO-BE
Asked how pet owners in Singapore can budget for medical expenses, all the vets we spoke to unanimously recommended pet insurance. According to Dr Tong, emergencies and major surgeries can cost "at least S$10,000 to S$30,000 or more if it requires a specialist".
And if you're doing away with pet insurance, you can't go wrong with setting funds aside for them "just as one would for their children", said Dr Teo.
"Being a responsible pet owner means recognising that our pets will not be young and healthy forever. Owners can financially, mentally and emotionally prepare themselves for unexpected medical conditions and perform pet health screenings regularly," he said.