Despite his global star status, Mark Tuan is sweet, genuine and surprisingly, awkwardly shy – but in an ever-so endearing way. In fact, he admitted that he gets a little awkward at times, a trait he said is similar to his digital twin.
For those who are not aware, the 30-year-old star partnered technology company Soul Machines earlier this year to create a digital twin in his likeness.
Affectionately dubbed "Digital Mark", this AI version uses OpenAI's GPT (generative pre-trained transformer) integration to allow fans to have one-on-one conversations with Tuan – albeit with his digital twin.
"My fans have mixed opinions on that, but I think they're having fun."
Tuan let on that he has chatted with his digital self, though the experience was somewhat strange. "I've talked to 'him' a couple of times, but it felt kind of awkward. It felt weird."
When CNA Lifestyle sat down with the Chinese-American singer-songwriter, he shared that he had spent the morning enjoying the sights of Singapore around the hotel. He arrived the night before from Los Angeles where he's currently based, and had nasi lemak for lunch.
While most of us would be sluggish from the lack of sleep and a heavy lunch, Tuan was all smiles and looking fresh, no jetlag in sight.
While Tuan might be known to many as the rapper and oldest member of the wildly successful K-pop group, Got7, he's also an accomplished solo artiste in his own right.
Since embarking on his solo music career in 2021, he hasn't slowed down. Besides various singles and a solo album, Tuan was also featured on the Shang-Chi And The Legend Of The Ten Rings soundtrack, on a duet with Korean singer, Bibi. 
In 2023, he released even more music with Carry Me Out, Everyone Else Fades and Your World. On Friday (Oct 27), Tuan will release his second EP, Fallin'.
Tuan revealed that he was deeply involved in the creation of the album from beginning to end.
"It started with [the release of the single] Carry Me Out earlier this year. And then I did my first show in Bangkok. And after that, I had some time, so I thought 'Let me create a whole new album so that I can add on to the Asia tour'."
According to Tuan, the new album will showcase a different side to his musicality.
"It's a step away from The Other Side (Tuan's first EP). It's more upbeat. I think it's more pop and a little bit of rock in there too. It's not as moody as The Other Side was. And I think it's going to be a lot more fun to perform on stage. I thought it would be a little bit more fun and more happy, touching on love and stuff like that."
Interestingly, Tuan also shared that his favourite track off the album, This Is Everything, is coincidentally the most challenging that he worked on as well.
"The track starts off with a little guitar portion and there are little pauses in there. And we were like, 'How do we make it so it doesn't sound so awkward?'. So I think that in itself was a process to try to figure that part out."
Fun fact: Tuan hasn't just released songs in Korean and English, the multilinguist even has two Chinese singles under his belt: Outta My Head (released during the last day of his solo fan meet in China) and Never Told You (released on White Day, Mar 14).
So how has it been for Tuan, going from one of seven members to a solo act? "It's really different. [With Got7, there are] six other members supporting you at the same time. And now, you've got to be able to fill up the whole stage by yourself. But that said, it's been fun."
And Tuan would know as he's currently in the midst of an Asia Tour that started in Bangkok and will go on to include stops in Taiwan, Macau, Manila and Seoul.
Tuan shared that he does miss his fellow Got7 dongsaengs (Korean for younger brothers). "The group chat is always active. They're always talking, trying to meet up. But I'm like halfway around the world. But I do keep in contact with the members here and there. In fact, I'll be seeing BamBam in a couple of days and I'll be heading to Korea in January." 
Related:
DARING TO BE BOLD AND EXPERIMENTAL WITH FASHION
What about a style that he has yet to pull off, but would love to try? "I want to say, maybe like the old classic style suits? Like a suit with a little hat. I think I've never worn something like that before. Think Sherlock Holmes."
Yet when it comes to what looks good on a woman, it's not the clothes that she wears but rather the smile on her face that gets his attention. "I like a girl with a pretty smile. I like when girls smile cos it shows that they're happy."
So is there any particular lipstick colour that draws him in more? "I don't have a favourite colour. I think it has to suit her image and how she looks in it. You don't want to wear something that doesn't really suit you. But if you are looking for a new lip colour, the YSL Beauty Rouge Pur Couture collection has different shades for everybody."
Related: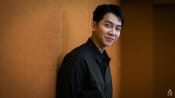 KEEPING THINGS CLEAN: HIS CLEANSING-FOCUSED GROOMING ROUTINE