Despite my Indian-Chinese heritage, I am ashamed to say that I have only ever worn a sari once and that was for a school play on multiculturalism (being in a Chinese school, I was a natural choice for the role). As an angsty teen with an identity crisis then, I was both unsure yet intrigued by the idea of donning a traditional garment, especially one I perceived to be too ethnic and elaborate for my pop star-influenced tastes at the time.
I remember asking my sari-wearing grandmother to teach me the proper way to drape the traditional fabric so I didn't make a fool of myself. This required much patience on her end and I was in awe at how deftly she did it, all without the use of safety pins or any form of fastening to hold the swathe of fabric in place.
Related: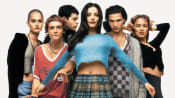 I did manage to keep the sari up for the performance but I don't think I did it justice with the careless way I draped it around me. What's even more appalling is that I haven't worn a sari since, although I bought one on holiday in India with every intention of doing so. Truth is, I am in awe of its beauty but also intimidated by the sheer richness and significance of it.  
POP CULTURE SIGHTINGS
Worn in India, Pakistan, Bangladesh, Sri Lanka and Nepal, the sari (also known as saree) has also been embraced by the Western world with celebrities wearing glamorous versions of the traditional garment.
In 1998, Madonna wore an elegant deep purple sari at the VH1 Fashion Awards. Lady Gaga looked ethereal in a white sari adorned with Swarovski crystals by Indian designer Tarun Tahiliani at the Formula 1 concert in India in 2011. At this year's Met Gala, Naomi Campbell turned heads in an archival Chanel sari from 2010 while Zendaya slayed at the opening of the Nita Mukesh Ambami Cultural Centre in Mumbai earlier this year in a modern number by Indian designer, Rahul Mishra.
The word "sari" means "strip of cloth" in Sanskrit and the garment was first made of cotton and later, silk, ikat, embroidery and tie-dye textiles grew popular. Over time, the fabric was also embellished with expensive stones, gold threads for the upper echelons of society.
With industralisation in India in the mid-nineteenth century, dyeing and printing techniques were introduced and the variety of saris grew. Today, the sari is a single strip of unstitched drape that can vary in length – from 4.5 metres to 9 metres long and 600 centimetres to 1.2 metres in width – and it can be made of a variety of fabrics, from natural materials such as cotton and silk to synthetic fabrics such as polyester and nylon.
While cotton saris are usually worn for everyday use and comfort, silk saris that are bright in colour are favoured at joyous occasions such as weddings. The variety of colours and patterns of saris available today is extensive with certain styles reflecting the tradition and culture of different regions of India.