Michele Khoo is not your typical tattooist. Instead of inking flowers, quotes or symbols onto your skin, the 38-year-old is an expert in tattooing nipples and areolas on women with reconstructed breasts who have lost theirs due to breast cancer. 
Called 3D nipple tattoos, these are crafted using a technique that employs the same pigments found in traditional tattoos, to replicate a life-like image and texture of the nipple and areola on the skin, although it is actually flat. 
She opened COVERS, a paramedical aesthetics centre in 2019 and sees patients with various skin aesthetics issues "I see burn patients, and patients who have scars from an accident," Khoo told CNA Women. "The most common patients I see are women who have gone through breast removal surgeries due to breast cancer."
"I found out that in countries like Australia and the US, there were many aesthetics clinics by doctors and paramedics that provide tattooing services to recreate natural breast nipples," she said. "It was exactly what my friend needed, and I got excited." 
However, at that time, there weren't many in Singapore who did nipple tattooing. 
"My friend and I came across a tattoo parlour that did nipple tattoos, but she, who'd never had a tattoo before, wasn't very comfortable about doing it," she said.
"The place had little privacy. My friend wasn't sure if getting tattoos would work on her reconstructed breasts, and she didn't want to bare her chest there."
The two friends dropped the idea. But Khoo, who was still intrigued by the procedure, was moved to figure out if she could learn the practice herself.
Related: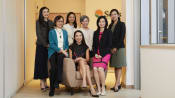 GETTING THE COLOUR AND TEXTURE RIGHT
"No nipple is made of just one colour," she said. "To make sure the nipples look as real as possible, I have to mix the colours to get the right texture and shade. This involves up to eight different pigments of pink, red, brown and yellow." 
The first patient she tattooed was a woman who had scars on her chest from a burn accident when she was three years old. 
"The woman told me, 'I've never remembered my own nipples, I wouldn't even know how I'd look like or if this would work'," Khoo said. 
Both patients were stunned by the results. "They were so emotional when they saw how realistic the nipples looked," Khoo said. "They kept saying, 'It's so real!' and I felt so relieved and proud when I saw their reactions." 
By the end of the fortnight, Khoo had achieved certifications in hygiene standards, aesthetic tattooing, and paramedical scar camouflage. And she was certain that she wanted to pursue paramedical tattooing and micropigmentation as a career. 
Armed with her certification, she headed back to Singapore, resigned from her finance job, and in early 2019, opened her paramedical tattoo centre at Novena Medical Centre. 
"Not forgetting why I started this whole journey, my friend became my first patient in Singapore, and I was so happy to help give her the natural look of the nipple and breast she had lost," Khoo said.
MAKING WOMEN FEEL "WHOLE AGAIN"
Nipple tattoos are typically done at least three to four months after a woman goes through breast reconstruction surgery, as the time can allow the breasts to set and heal. 
One of the most popular packages Khoo offers goes for S$1,250 and consists of a consultation, a tattoo session, and as many follow-up sessions as needed to intensify or readjust the colour of the tattoo to ensure its permanence and colour consistency. 
The duration of the first session takes from one-and-a-half to two hours, while follow-up sessions for touch-ups take from one to one-and-a-half hours.  
Depending on how the tattoo pigments appear on each individual's skin and whether it is to the patient's satisfaction, follow-up sessions can range between two and four visits.