Nestled in a shophouse in the heart of Little India, Dakshaini Silks is a haven for those looking for Indian ethnic clothing – saris, kurtas, Punjabi suits and more – in all manner of fabrics and designs.  
"In the 80s and 90s, the landscape of local Indian textiles was vastly different," said Dakshaini Silks founder Rani Kumar.
At that time, shops provided only one type of product or service, whether it was tailoring, or selling ready-to-wear clothes or fabrics, the 67-year-old Singaporean explained.
In 1992, Kumar decided to change this. Her idea: A "one-stop store" that offered a range of services and products related to traditional Indian clothing.
At her shop, customers would be able to buy fabrics like silk or cotton, ready-to-wear Indian outfits, or have their traditional clothes tailored – all in one place.
05:15 Min
FAMILY AS A SOURCE OF INSPIRATION
It all started with family. While Kumar had spent more than a decade doing administrative work as a secretary, she was surrounded by entrepreneurs in her family.
The turning point, however, came when she married her husband, then a pilot. A year after their wedding in 1981, Kumar gave birth to her first child, a girl. She had two more children, both boys, in 1986 and 1989.
"I wanted to spend more time with them," she said. "But it was hard to do so as a secretary where the hours are so fixed.
"I needed to be more flexible. So I thought to myself and my husband, maybe this was the time to start my own business."
SHIFTING FROM BEING EMPLOYED TO RUNNING A BUSINESS 
"It was hard, but I knew I had to try," she said. "And it helped that I wasn't alone. 
"My husband was always there for me, and so were my family and friends who helped to check my ideas for feasibility. Seeing my kids also motivated me."
The shop was where customers could buy fabrics and have them tailored into Indian cultural wear, shop for ready-to-wear saris or kurtas, or even get their traditional outfits altered.
Read about women entrepreneurs inspired by family: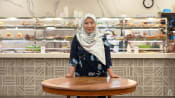 PRESERVING INDIAN CULTURE THROUGH FASHION
When Dakshaini Silks first opened, Kumar's children were frequently present as it was easier for her to keep an eye on them.  Now, they're adults aged 41, 37, and 34, and have full-time jobs – but they still find time to help out when they can.