When a patient returned to the Breast Clinic at Tan Tock Seng Hospital (TTSH) for her appointment following a double mastectomy to remove her breasts, she broke down in tears. This was when senior breast care nurse clinician Patmavathy Chellaiyya stepped in. 
She took her hand and simply listened.
The patient was grieving. She had early-stage breast cancer, she no longer had her breasts and she wasn't sure how she could pay her hospital bill. On top of that, she was nervous about returning to work after her mastectomy.
Eventually, the patient regained her composure and was able to consider some of the options Patmavathy had suggested: Financial support for her medical bills, counselling to come to terms psychologically with breast cancer, and breast reconstruction surgery in case she wanted to recreate her breasts. 
Before she left the clinic, she smiled and thanked Patmavathy, who told her: "You can do this."
Such interactions are typical for Patmavathy, who has been a breast care nurse for 25 years of her 44-year nursing career.  
BEING EMOTIONALLY PRESENT IS AN ESSENTIAL PART OF CARE
After her attachment, Patmavathy was determined to bring what she had learnt back to TTSH, which, at that time, did not have a breast care department. 
In 1998, a breast care speciality was established within TTSH's general surgery clinic and in 2010, the speciality evolved into the TTSH Breast Clinic. Patmavathy played a significant role in both and is regarded as a founding member.
Two years after TTSH formed its breast care speciality, Patmavathy realised that breast cancer care went beyond medical treatment. She had also noticed that breast cancer patients didn't know who to turn to for company. 
This prompted her to initiate the TTSH Breast Cancer Support Group in 2000, one of the few at the time. 
"I wanted to start a group that could help breast cancer patients feel less lonely," Patmavathy said. "So this support group was an optional follow-up after appointments at the hospital, where patients could meet with other patients or survivors."
Eventually, the support group started organising activities so that members could interact with one another. 
"The women would plan lunches and outings after some of the patients' appointments at the hospital so that they would have something to look forward to, no matter the outcome at the clinic," Patmavathy said. 
"They'd also share words of encouragement, hope, self-confidence, and to never give up, no matter how dark their situation was," she added. 
The support group even served as a "lobang" or resource, where the women would share shopping tips and deals, such as where to find good wigs, hair donation platforms and spa treatments and services.
Since its beginnings in 2000, the TTSH Breast Cancer Support Group has organised dozens of activities and accompanied more than 100 women on their breast cancer journeys. It currently has around 30 active members. 
"It's so touching to see how the group has grown through the years," Patmavathy added. "Some survivors and patients have left, some are still in the group, and some have passed – but all of them have made a special mark and made at least one woman less lonely.
"Anyone with breast cancer should know that it's not always a death sentence and they should never go through it alone. Whether it's with their spouses, children, survivors, counsellors, doctors or nurses, it's something they can face together with others."
As Patmavathy looks back on a career spent caring for breast cancer patients, she is grateful. 
"It's all for the women," she said. "It can be tiring to be there for patients emotionally. But I also see it to be my strength and it gives me a lot of fulfilment and energy."
Find out more about breast health: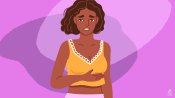 CNA Women is a section on CNA Lifestyle that seeks to inform, empower and inspire the modern woman. If you have women-related news, issues and ideas to share with us, email CNAWomen [at] mediacorp.com.sg.