You may know Jamie Yeo as a former radio DJ and actress – in the days before streaming or even cable television, many of us grew up watching her play Tammy Tay on the English drama Growing Up. She's also an entrepreneur who started her own online jewellery business, Lula J.
With her reveal a month ago, you can add breast cancer survivor to that list.
Her breast cancer battle was a private one, so it came as a shock to many when the 46-year-old mum-of-two shared the news in an Instagram post on Oct 1 to commemorate Breast Cancer Awareness Month.
In the post, Jamie wrote that she had discovered a lump during a self-examination and "long story short", she was "extremely blessed that it was an early-stage, less aggressive tumour", which could be treated with a lumpectomy, radiation therapy and an ongoing regimen of pills.
Indeed, feeling blessed was something Jamie unabashedly reiterated when she met up with CNA Lifestyle a couple of weeks later, while in town for a hosting gig.
"My faith has definitely been sealed and increased ever since the incident so I'm not afraid to say praise God. I was blessed," she said.
During our chat, Jamie also opened up about some life lessons she's picked up along the way and the five things she would tell her younger self, including the realisation that she's "not invincible".
"I'm very impulsive," she admitted. "I'm a feelings person. I have to feel the conviction before I do or don't do something, so I would have to say I learn from experience. And I think God knew that, which is why he allowed me to have the experiences that I've had."
5 THINGS I WILL TELL MY YOUNGER SELF
Sleep is very important so get some help if you have sleep problems.You're not invincible.Be kind, it's not just a saying.Invest in tech stocks. Put some money in Apple and Google now.Don't worry, it'll all work out. Collapse Expand
These days, Jamie calls England home, where she lives with husband Rupert, who works in risk management, daughter Alysia and son Luke.
Home is a 2,050 sq ft house in the country town of Lewes on a 25,000 sq ft piece of land. Rupert, the more experienced gardener of the two, grows fruits and vegetables like kale, tomatoes and onions on the grounds.
Jamie helps him weed, she admitted sheepishly. 
While the family had contemplated moving away from Singapore for some time, Jamie's breast cancer diagnosis in June 2021 sped up the decision.
Opening up about the moments before learning if the lump was cancerous, she shared: "I sat there on the bed. I looked at my son and thought, 'I might not even watch him grow up'.
"I went from being invincible to just 'Oh my god', and that was when I spoke to my husband. I said: 'Baby, let's just do what we've been talking about doing because life is so short'. And so we made the decision to just move and have a better life for everyone with space and fresh air and just a simple life."
When the biopsy results came in and showed a less aggressive form of cancer, Jamie shared that her oncologist was "so relaxed".
"I could tell from the vibe that it was okay, and I know that I was blessed – some would say lucky – but I was very, very blessed."
Related: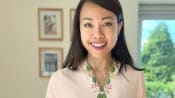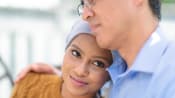 LIVING LIFE MORE FULLY
The worst may be over now but, "You remember it for the rest of your life, that fear, that numbness".
Jamie candidly says that she's now "at the stage where I think about death a lot. And I hate that I do because it's f***ing morbid, but I think that I'm grateful that I do because I live life more fully now than before".
What exactly does living a full life entail?
"That means I want to be happy now," she asserted. "I told my husband back then that I don't want to wait. I don't want to look forward to holidays… I don't want to live life for the weekends. I want to live life every day. I wanted every day to be blissful.
"All I can say is just don't live your life looking forward to something else. You should enjoy every day and not wait till you're old and retired because let's face it, we might never get old."
Although she "worked (her) ass off" in her 20s and 30s, "I don't regret that so much because whatever I did helped set us up for now". She can't help but wonder, though, if she "suffered for it" and if stress contributed to her cancer.
However, she's also aware of this undeniable human truth – oftentimes it takes a serious health scare for people to make the changes they need to, "and I don't wish it for anyone".
Even now, she can still feel the "numbing fear", though if you ask her, it's not something she wants to go away "because it reminds me every day to not sweat the small stuff and not care about the trivial things".
She has made changes to her life post-cancer scare, including eating better and even sleeping better. She used to be a poor sleeper and would often not be able to sleep if she had a shoot the next morning, which is why getting good sleep is number one on the list of things she wants to tell her younger self. Now she's clocking seven to eight hours a night. 
She also works a lot less, which, she admits candidly is sometimes "quite shitty" – "I wish I had Singapore's income in the UK but I don't so I have to really watch what I spend on".
Related: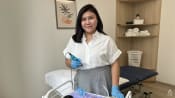 Jamie now only returns to Singapore two to three times a year for multi-day hosting gigs that would make her trip back worthwhile. The hosting work as well as content creation for Singapore-based clients give her extra income, which she uses to do up the house "because everything costs so much".  
Her main source of income now is her online jewellery business, Lula J, which she started in 2019. "I like solid gold things, but I could never find solid gold things that were nice and simple," she explained.
Another reason was that "I needed to do something where I was in control, and I wouldn't have to be waiting for people to call me for gigs", adding that times were good then but she "couldn't do it forever".
One thing's for sure, though, acting jobs are no longer on the table. "Cannot lah. My life is there (in England)."
GROWING UP
So, which decades in her life offered Jamie the most lessons? 
"Apart from the cancer, which happened in my 40s, I would say my 30s," Jamie said, after thinking about it for a bit.
That was when she had children and her second marriage broke down. She described dealing with difficult financial issues stemming from a bad investment her then-husband insisted she put money in. 
But in keeping with her perspective to look on the bright side of things, she said: "I'm so glad (my second husband) was an asshole because I would not have met my current husband."
She added that Rupert is "a very good guy" and "I'm glad I get to spend the rest of my life with him". 
By her own admission, Jamie "used to be very competitive" in her 20s and 30s; she wanted to be the best at everything.
"If I was a DJ, I wanted to be the most popular. I wanted my show to be the most highly rated. I wanted the client to choose me, instead of anybody else, which is really bad because it just meant I was very competitive with the other DJs."
She admits that her past behaviour could have been construed as her "being a bitch".
Being a mum, she said, has been the biggest change for her because "suddenly, you're not selfish anymore". Getting older has also made her slow down. 
Another thing that's changed for Jamie is that her "need for attention is gone", which has really set her free.
"In my 20s and 30s, I needed the attention. I wanted people to look at me when I walk past so I was always wearing shorts and short skirts. My hair was always done; I wanted to be pretty. Now it's like I don't wear makeup half the time, I wear my glasses. And you will never catch me wearing a skirt above my knees.
"That need for attention, I feel, was bad for me. It was like a disease and I'm so thankful I don't have that insecurity anymore. I've very secure about myself right now, and that has changed my life."