For the first time in local futsal, men and women will play alongside each other in a formal tournament, the D2D Mixed 5s, happening from Oct 26 to Jan 18, 2024, at Kickoff! Kovan. 
A total of six teams, each comprising men and women, have so far signed up for the mixed gender futsal tournament, according to Rasvinder Singh, executive director of D2D Sports, one of Singapore's biggest amateur sporting event organisers. 
Among the players, 40 are men and 25 are women. 
There will be one referee a week in the three-month-long tournament, all of them men. "We don't know of any female referees outside of the Football Association of Singapore," Rasvinder told CNA Women.
RULES OF PLAY
To ensure and encourage fair play, the following rules have been set, said D2D Sports representative Rasvinder Singh:
All direct free-kick fouls on women players will result in a penalty kick being awarded. This is to "protect female players, who may be cautious about getting injured due to physical challenges by male players". Every goal scored by a female player will count as two goals "to encourage teams to play women in outfield positions, rather than just have a token female player as a goalkeeper".In each half, a team is only allowed to commit six fouls "so teams focus more on (the game) rather than … engaging in rough play". A penalty will be awarded to the opposing team for each consequent foul. The foul count resets at the start of each half."Sin bin" rule: Players deemed "overly aggressive" will sit out the game for at least two minutes. They will be replaced by another player during this time. Each team is allowed to have one female national football team player on their team. The team with the best disciplinary record on and off the pitch will receive a S$200 shopping voucher. On-field discipline is determined by the number of yellow and red cards collected during the games, while off-field discipline is determined upon officials' observation of the players, and teams' feedback on each other.  Collapse Expand
"We were already thinking about doing a mixed gender concept in 2011 when we first started organising the women's five-a-side league, but the plan was placed on the backburner. 
"We're revisiting this plan now as part of efforts to expand our offerings, but also, I'd noticed how, after a recent tournament, there were already mixed teams playing casually with each other.
"This is a good opportunity to get them to play together in an organised setting," he added.
"We also hope that this league gives players a chance to play in an environment that is less tense. The emphasis is on playing football and enjoying themselves, alongside members of the opposite sex who are either related to them, or are their partners and friends," he said. 
It was a challenge, Rasvinder said, putting together teams for a league "that is so niche and doesn't offer cash prizes". 
Additionally, all players were initially expected to wear non-studded shoes to ensure their own safety – something not everyone was keen on. 
"Due to the fast (pace of play) in a smaller pitch, there is a higher risk of injuring someone (when a player wears studded shoes). They are used to playing with studded footwear, even on these pitches," Rasvinder said. 
When teams started expressing interest, the company agreed to allow studded footwear for this season, but hopes players will consider transitioning towards the latter option in future, he added.
Related: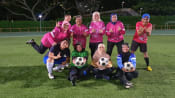 CNA Women is a section on CNA Lifestyle that seeks to inform, empower and inspire the modern woman. If you have women-related news, issues and ideas to share with us, email CNAWomen [at] mediacorp.com.sg.